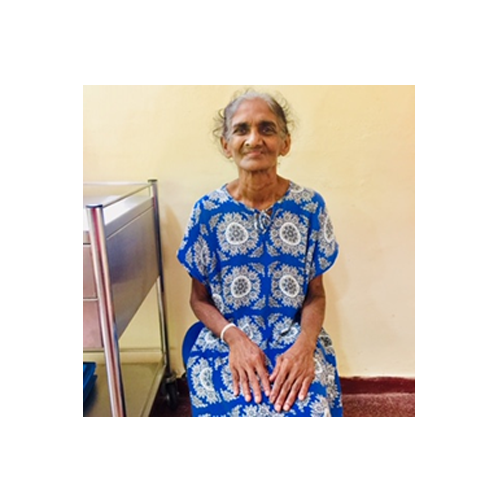 W. A. Malini
"I'm from Madampe, Chilaw.  My husband is dead and I live with my sister. Although I have three children they are unable to do anything for me.
I'm suffering from Cervical Cancer, diagnosed 10 years back. I received treatment at the Madampe and Chilaw hospital and was ok. But recently the cancer surfaced again and I was in pain with a lower back ache and heavy bleeding. I was transferred from Chilaw hospital to Apeksha Hospital Maharagama for treatment where I was warded and received treatment including blood transfusions
Post the treatment I was asked to receive 28 sessions of radiation as an Out- Patient and I couldn't do that travelling from Madampe. So I'm staying at the Home run by the Cancer Society of Sri Lanka and go across to the Hospital for treatment. I'm taken in a wheelchair or "three wheeler". I'm well looked after by the Home staff who are courteous and always see to our welfare. I'm a poor woman and this place is luxury and a haven to me. I'm looked after better than if I was at home and very happy here. This is a real blessing."
H. G. Saranapala
"I was employed as a Security Officer when I lost the functioning of both legs. I was later diagnosed with a small growth in my spine which was removed through surgery at the Apeksha Hospital. I was unable to walk even after the surgery and was admitted to the Sri Lanka Cancer Society run Shantha Sevana Hospice. I was very depressed owing to my condition and inability to do anything for myself and I came to the Hospice with a lot of fear and uncertainty.
However due to the very kind attention given to me by the staff and nutritious food provided, my physical condition started to improve. Also, the religious and musical programs gave us peace of mind and helped to overcome the loneliness and boredom The dedicated staff of the Hospice do everything for us including washing us, providing clean bed linen, serving our food to the bedside etc with so much kindness. They treat all patients in this same manner and the fact that all these services are provided free to us is amazing. I have not seen this anywhere else in Sri Lanka in my life. This is something special."